Our times call for something extraordinary. It's not just climate change. It's not just the current virus. We have a society that operates in many ways to undercut our life-support system.
This cartoon sums it up: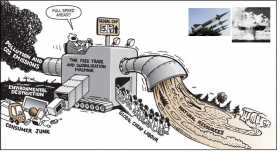 On this call we will consider the question.
How can we inspire mainstream commitment to turning things around?
The question is not academic! It addresses a fundamental challenge of our time.
We are not starting from scratch. In this conversation we will introduce the Inspiring Transition model for 'mass-producing' thoughtful conversations about what it will take to pull out of our ecological nosedive.
This is part of a larger movement to catalyse mainstream commitment to doing everything required turn things around.
We hope, through this presentation / conversation, that you will gain a larger – much larger – vision of what is possible. As an outcome, we hope that you will be interested to lend your influence to the larger goal of inspiring mainstream commitment to the systemic changes necessary to have a hope of a positive future.
Catalysing Mass Commitment to Transformational Change provides an overview of the ground we will cover.
Tuesday, 5 May
6 – 7:30 PM Sydney time
Zoom link: https://zoom.us/j/909132282
Contact: [email protected]
—
We will host a follow-up conversation two weeks later on the topic
Using our influence to catalyse a movement to shift the culture
This call will be quite different. We will be actively brainstorming about the resources we have to catalyse a movement, and how to activate them.
The background here is that there are millions of individuals and groups who care about environmental and social well-being – vastly more than we see reflected in the media or in politics. The members of these groups typically pay dues, sign petitions, and occasionally protest.
The opportunity here, if we can inspire them to do so (and why not??), is for them to become active communicators with their friends, business colleagues and wider social networks. (And of course businesses and influential thought leaders have a role to play as well.)
Tuesday, 19 May
6 – 7:30 PM Sydney time
Zoom link: https://zoom.us/j/909132282
Our times call for extraordinary levels of innovative thinking and commitment. We hope you will join us!