Volunteering at a charity can be quite a humbling experience and can reach deep into your own life, as you reflect and think deeper about the wider world.
In a recent volunteering experience at Newtown Neighbourhood Centre, Stuart Barrett was transformed at one of the largest support centres for homeless people in Sydney.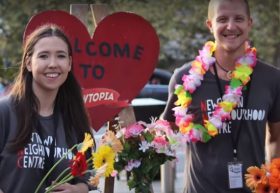 This is a story about how volunteering can change our outlook on life!
As a trainer, Stuart Barrett, who has a wealth of experience in business and information technology and who is employed by a leading training organisation called TrainSmart Australia, was selected as a Volunteer Project Manager at the neighbourhood centre.
Initially appointed for a three-month period, he soon became so involved that he is still helping nearly a year after he first arrived. The Centre encourages community events to foster social inclusion and to help those who have no permanent base.
He's been speaking to us about his experiences.
What motivated you to do the volunteering work?
I am 69 years old but still working, I have never been one to sit at home and retire and for me there is tremendous satisfaction in so many areas when you help others.  I suppose I also wanted to prove to people that I have a lot to give despite my age so yes, I did feel empowered being able to secure the volunteer placement at my age, and to know that my skills were valued – it did give me a boost.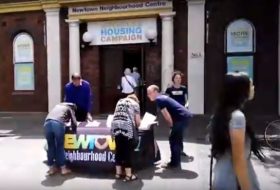 Stuart Barrett, in blue jumper, campaigning for affordable housing!
My life has also been touched by homelessness.  I am very close to my brother-in-law.  When he met my sister, he was homeless, sleeping in a car.  This had come about through circumstance.  He was a successful businessman but had gone through a marriage breakdown and his first wife was given the house and he had nowhere to live.  Now he is a very happy man, but it serves as a reminder that homelessness can happen to anyone, at any stage of their life.
Trainers and assessors must prove that we are knowledgeable in our chosen field and TrainSmart Australia wanted me to spend half a day volunteering at an organisation which would benefit from my skills. I was lucky enough to be selected for the role of Project Manager for the Marketing and Communications Volunteer team.
What did you expect to achieve and what were your disappointments?
I have lived in Sydney for a long time, I am aware of the homelessness problem. I am currently training and mentoring a student who is sleeping in a car in a street.  This is the reality.  Someone who lives nearby makes him a meal every night and when I see him in person I always take him out to lunch.
I suppose deep down I wanted to contribute to an organisation which I felt was worthwhile.  I am not a social worker or a counsellor but I realised I could offer skills which would raise the profile of the Newtown Neighbourhood Centre and help towards extra funding.
I was involved in social media and website development, there was lots to do, but I was up against time constraints.  Some of the tasks were endless and there weren't many resources both financially and with staff availability.
Was your initial motivation only to fulfil your company wants?
Yes and no, as outlined I wanted to give something back to society. My company wanted me to commit to half a day a week, but I soon realised that the role would extend far more beyond a few hours every week.  I soon became a real part of the team.
Newtown Neighbourhood Centre was extremely grateful for my services and they kept reminding me that I was making a 'real difference'. In business terms the improvements I made to their website meant it ranked higher and was graded more dependable which meant it was better for search engine optimisation.
How did this experience transform you?
Being in this community and working in an organisation committed to homelessness, made me appreciate the scale of this problem. Although I was working in their office, I met some of the visitors and many had fallen on hard times through extraordinary circumstances. People at the homeless centre were working there out of love and not motivated by money.  They were so upbeat and cheery and they came to work with enthusiasm and commitment.
I closely connected with the reality of homelessness, we had 100 people make use of our facilities every day.
What is your deepest longing for the world and people around?
I feel that the world has become too consumer led.  Everybody wants a newer high spec car, there is too much greed. Let's try and lead a simpler life where there is less violence and less stress.
We also need to stop polluting this planet. Our population is increasing and we need to control the trail of damage that we are leaving behind.
What feelings do you have when you reflect on others who are disadvantaged?
I experience deep feelings of sadness for those people disadvantaged by circumstances not of their own choosing. At the same time, there is intense frustration and anger that such situations continue to exist, on an increasing scale and at an alarming rate, in a country as wealthy and 'developed' as Australia.
I also have sheer admiration for the staff, carers, and volunteers who work tirelessly to make the plight of those less fortunate bearable and understand how anyone can experience misfortune. I see the gap between those who 'have' and those who 'have not' widening.  I think we need to change our actions and that needs to come from the Australian Government and pressure from us for change.
I cannot save the world but anything I can do to help will make a difference.
Blog by Sally Grandy